May 24, 2013

This Day in History
The Brooklyn Bridge, linking Manhattan and Brooklyn in New York City, opened to traffic.
RELATED ACTIVITY
(Gr. 6–10)
Daily Warm-Ups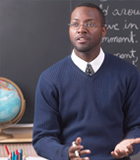 Funbrain Games
Tip of the Week
Make your classroom the destination of your next field trip. If another class were to make a trip to your classroom, what would they find? What would they do? Have your students draw a map of the room that includes "landmarks" and other must-see areas. Write up a list of activities to enjoy.
MORE TEACHING ADVICE
Today's Birthday
England's longest-ruling monarch, Queen Victoria ascended the throne at age 18 and ruled for 64 years. During her reign—known as the Victorian era—the British Empire reached its height.
RELATED ACTIVITY
(Gr. 3–5)
Today's DK Clip Art
Enhance classroom and homework activities with DK's famous photographs. Download the clip art to include in school projects or embellish just about anything!
VIEW FULL-SIZE IMAGE
Related DK Books

Ages 10+
Discover the prehistoric world of dinosaurs

Ages 10+
What fossils are, how they formed & how they lived millions of years ago